Lippie Hippie is a reader-supported site. Purchases made through links may earn a commission.
Learn more.
Travis Kelce Hairstyle Guide: NFL Tight End Haircut
Published by Anna
---
Key Takeaways
The Travis Kelce haircut is also known as a buzz cut, or crew cut with a disconnected undercut, which emphasizes the difference in length between the top and the rim parts.
It has been used by military personnel since World War I, but Travis reinvented the look with his signature fade.
It is suitable for any hair type and facial shape but best suited for people with Travis's straight facial hair.
The hairstyle is easy to recreate: wash, dry, cut short, and style!
---
When talking about the best tight ends in the National Football League, one name never goes unnoticed – Travis Kelce.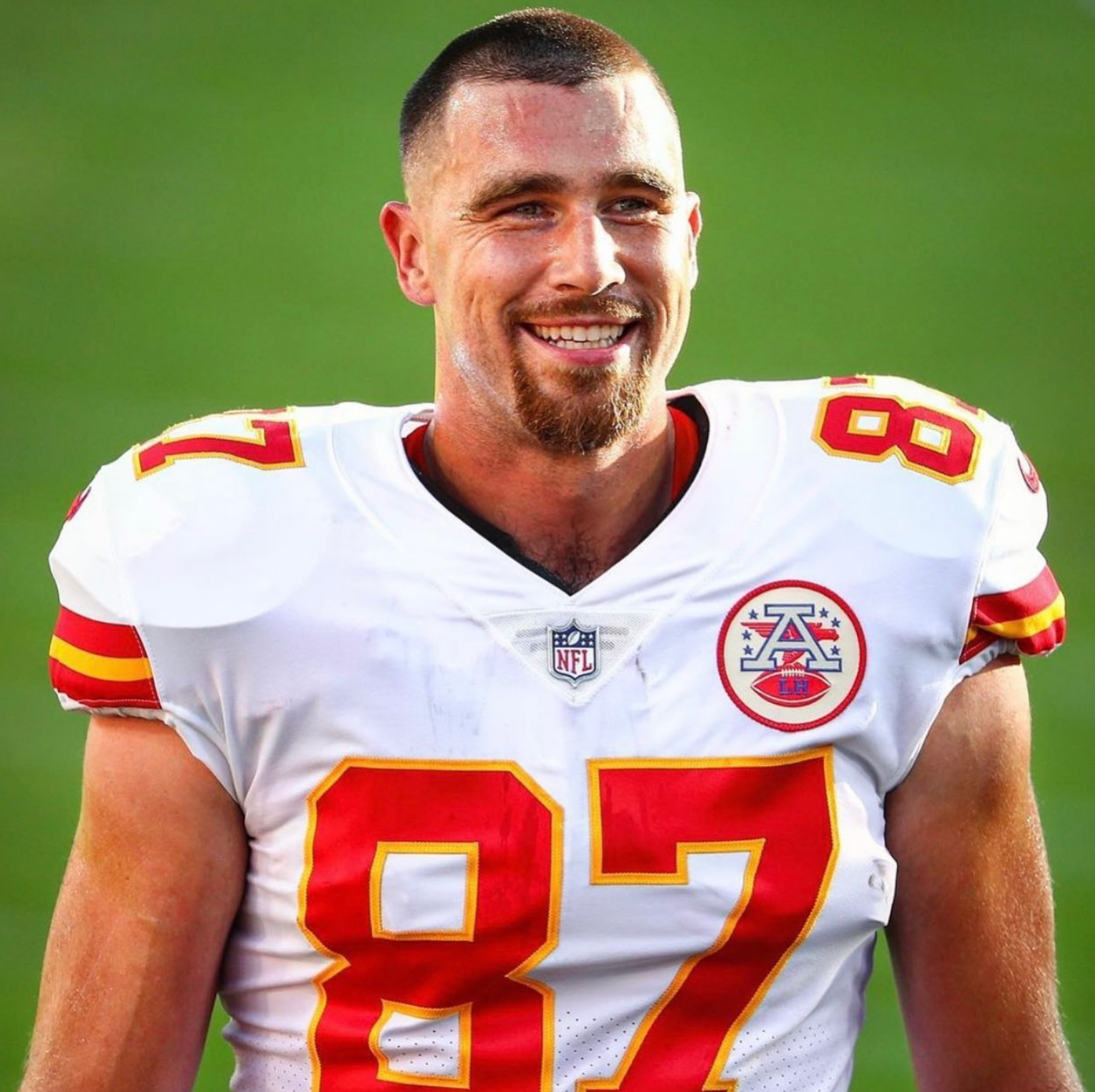 Travis Michael Kelce, born October 5th, 1989, is one of the Kansas City Chiefs' prized athletes, who averaged 78.7 receiving yards per game in the 2022 season.
Although he was the 63rd pick overall in the 2013 NFL Draft, he showed off his capabilities by breaking the NFL playoff record for most catches by a tight end in a single game after finishing with two touchdowns and 14 receptions for 98 yards. [1]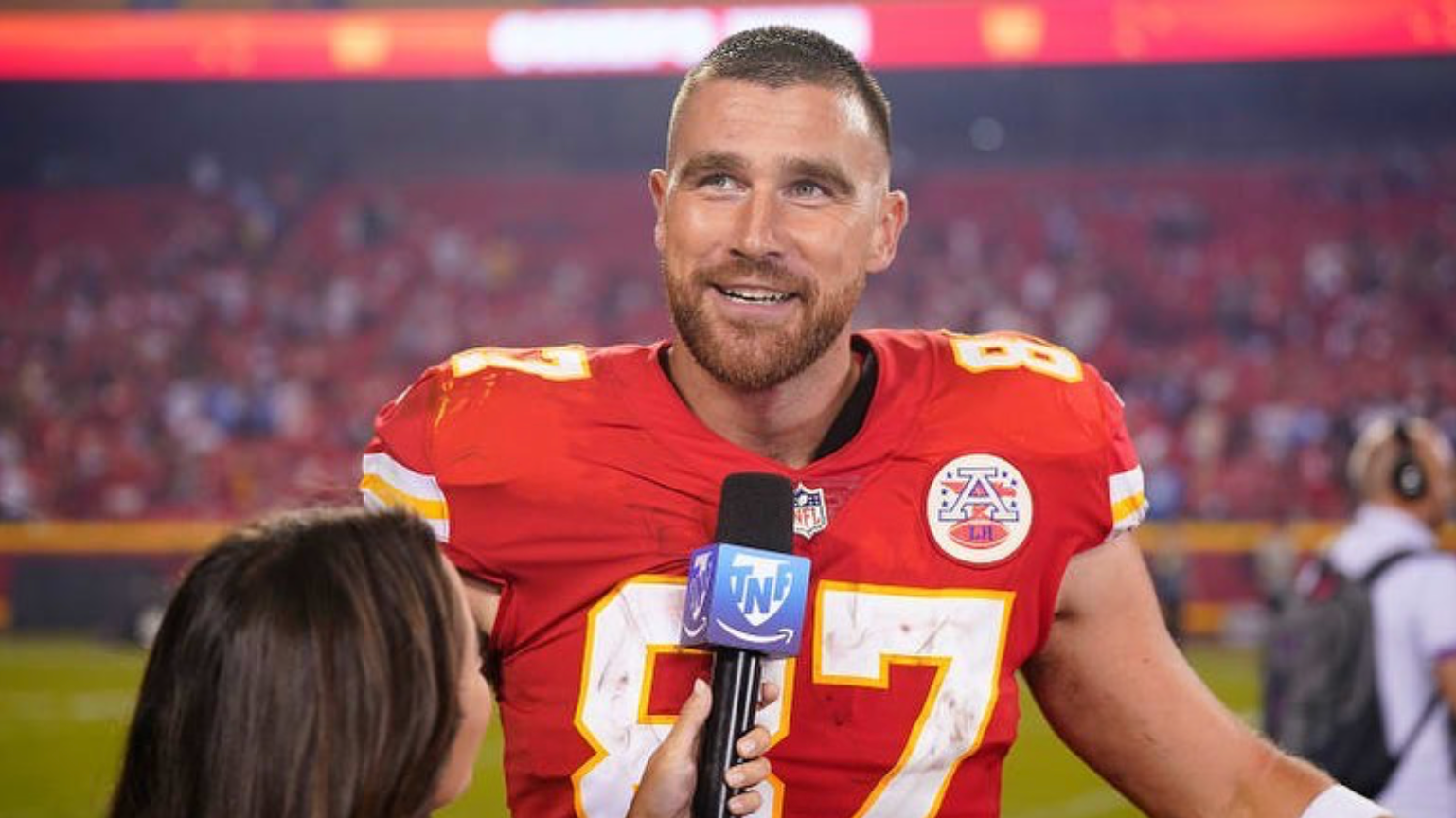 Aside from his athleticism, Travis Kelce's hair is a showstopper for most football fans. His signature short haircut is clean and simple but has a certain appeal that accentuates his overall appearance.
To help you grasp what we're talking about, we'll show you the Travis Kelce hair look and how you can get it done with your own barber.
What is the Travis Kelce haircut called?
The Travis Kelce haircut is called the disconnected undercut because the undercut does not fade gradually.
Unlike traditional undercuts, Travis Kelce's hairstyle emphasizes the presence of the undercut by making sure that the difference in the hair lengths is noticeable.
This Travis haircut is usually used for short styles, but long hair types can still sport it. As for him, he makes sure that his straight hair disconnected undercut is maintained in a short haircut.
His haircuts are characterized by the following features:
Short top
Faded sides
Complementary beard
This hairstyle is deeply associated with the military, as soldiers have used short haircuts with neat tops, sides, and back parts since World War I. The time-honored buzzcut is still the look recruits sport in basic training.
4 Travis Kelce haircut styles
Travis, or Killatrav, prefers simple hairstyles that make it easier for him to prepare for pre-games. Aside from that, uncomplicated hairstyles create a disciplined appearance in men.
On the health side, the reason men go for clean haircuts is to prevent the development of split ends, hair breakage, dandruff, or a dry scalp.
To help you achieve these perks from clean haircuts and develop a similar look to an NFL icon, let's review some of his most iconic looks!
1. Travis Kelce Fade Haircut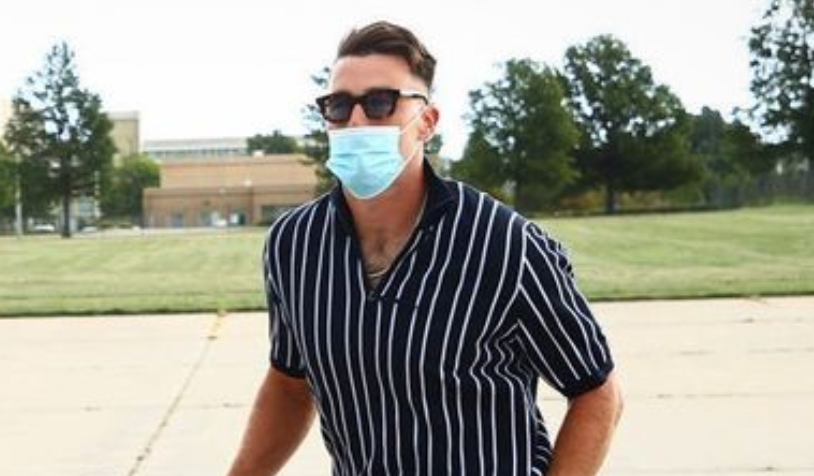 The top look on this list is the Travis Kelce fade or his signature disconnected undercut that he's sported for years.
The Instagram photo above shows a 2020 version of him sporting his longer-on-one-side top hair with a visible undercut just under the rim.
An undercut is beneficial to athletes for the following reasons:
You have lesser hair to manage;
It highlights the facial structure; and
It helps regulate the temperature during intense training or games.
A disconnected undercut like Travis's hairstyle is also one of the best choices for men with oval shaped-faces because it prevents you from looking too round by balancing the width of your face.
2. Travis Kelce Buzz Fade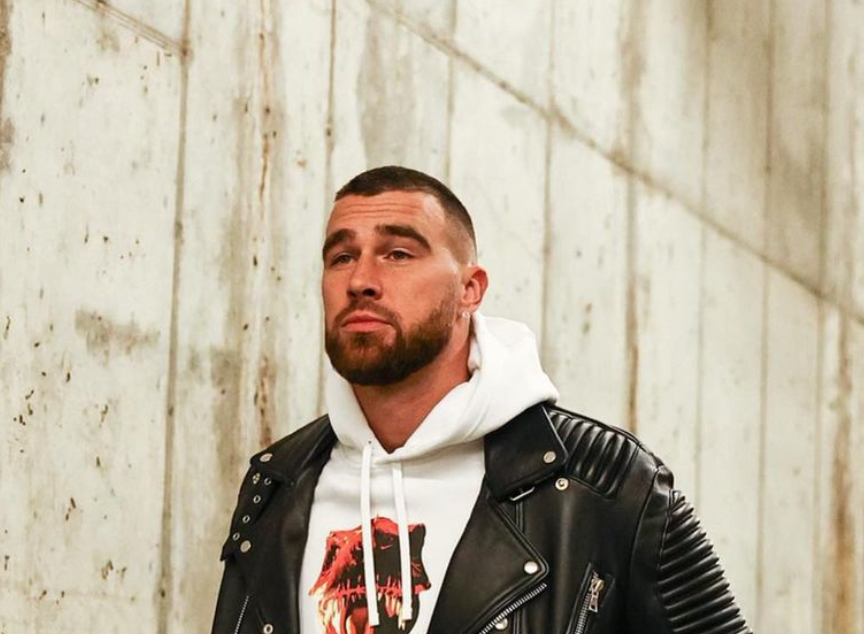 The next cut, his buzz cut with a fade, makes Travis look young and fresh. His buzz cut enhances his fit by taking off years from his appearance (the T-rex hoodie may also play a part in that).
The Buzz cut is a low-maintenance hairstyle that does not need a comb to prepare. It's a look that's well-suited for both formal and casual occasions.
The reason why a buzz cut is suited for an oblong face is it minimizes the effects of an oblong structure (e.g., longer face) and instead accentuates the following facial features:
The shape of the eyes and the eyebrows
The nose and lips
The facial hair
This cut also defines your hairline. So, if you want to improve your aesthetic even with a receding hairline, a buzz cut is an excellent addition to your style or look.
3. Travis Kelce Beard Fade With a Crew Cut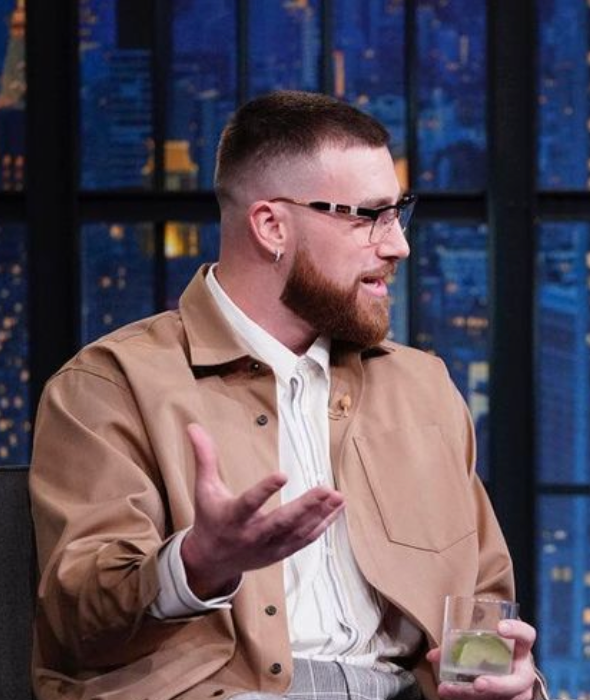 For a Late Night with Seth Meyers guesting right before the lockdowns hit in 2020, Travis showed off his beard fade with his crew cut.
Viewing it from the sides, the fade cut of his beard is a game-changing style because it's a good look that's modern, neat, and creative. This cut combo also redefines Travis's oblong face by creating dimension with a more angled jaw.
The crew cut, which looks similar to the buzz cut, best suits his redefined face shape. The crew cut gives him a more proportionate look by adding height via the top hair.
4. Travis Kelce Long Hair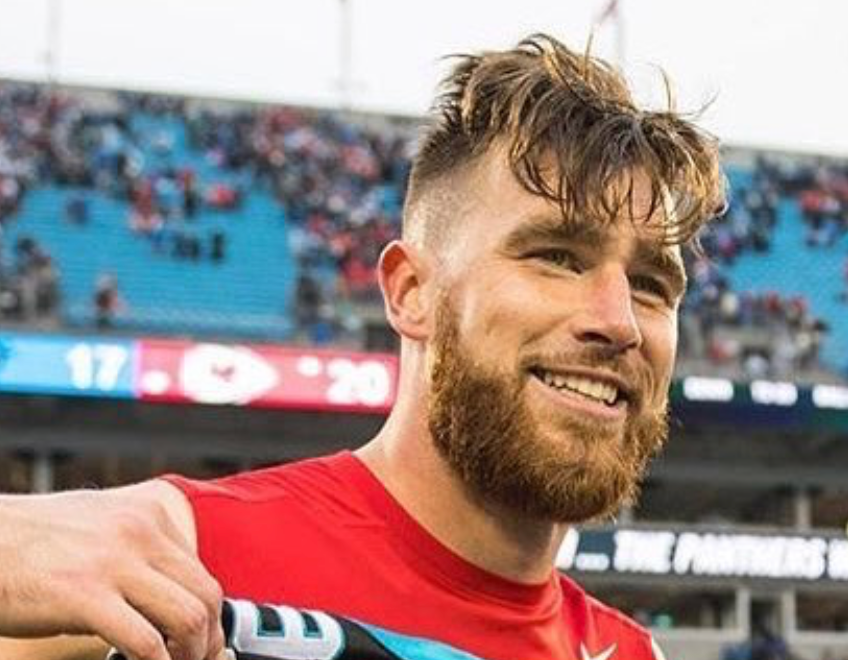 To complete this Travis Kelce hairstyles article, we will also show you his look when he had long hair.
Travis kept the top part long for this longer hairstyle, but his sides still have that signature disconnected undercut.
The benefit that comes with this long straight hair-style is that you can choose to style it with the following options:
Bangs
Quiff
Pompadour
Spikes
However, longer haircuts need more maintenance than short haircuts, such as using pomades and comb when worn during formal occasions. It can also obstruct your vision during an intense game.
Travis Kelce body hair
Travis Kelce Chest Hair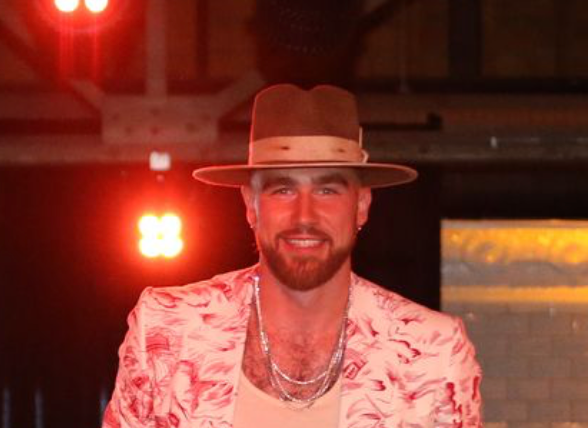 On the topic of Travis Kelce hair, even the ones on his chest seem to matter for some people.
As seen in this 2017 Instagram photo, he showcased his light chest hair, best suited with a white ribbed tank top.
Besides being an eye-catching feature, the chest hair also serves an essential purpose as it keeps the person warm and acts as a protective barrier to sunburns. [2]
Travis Kelce No Facial Hair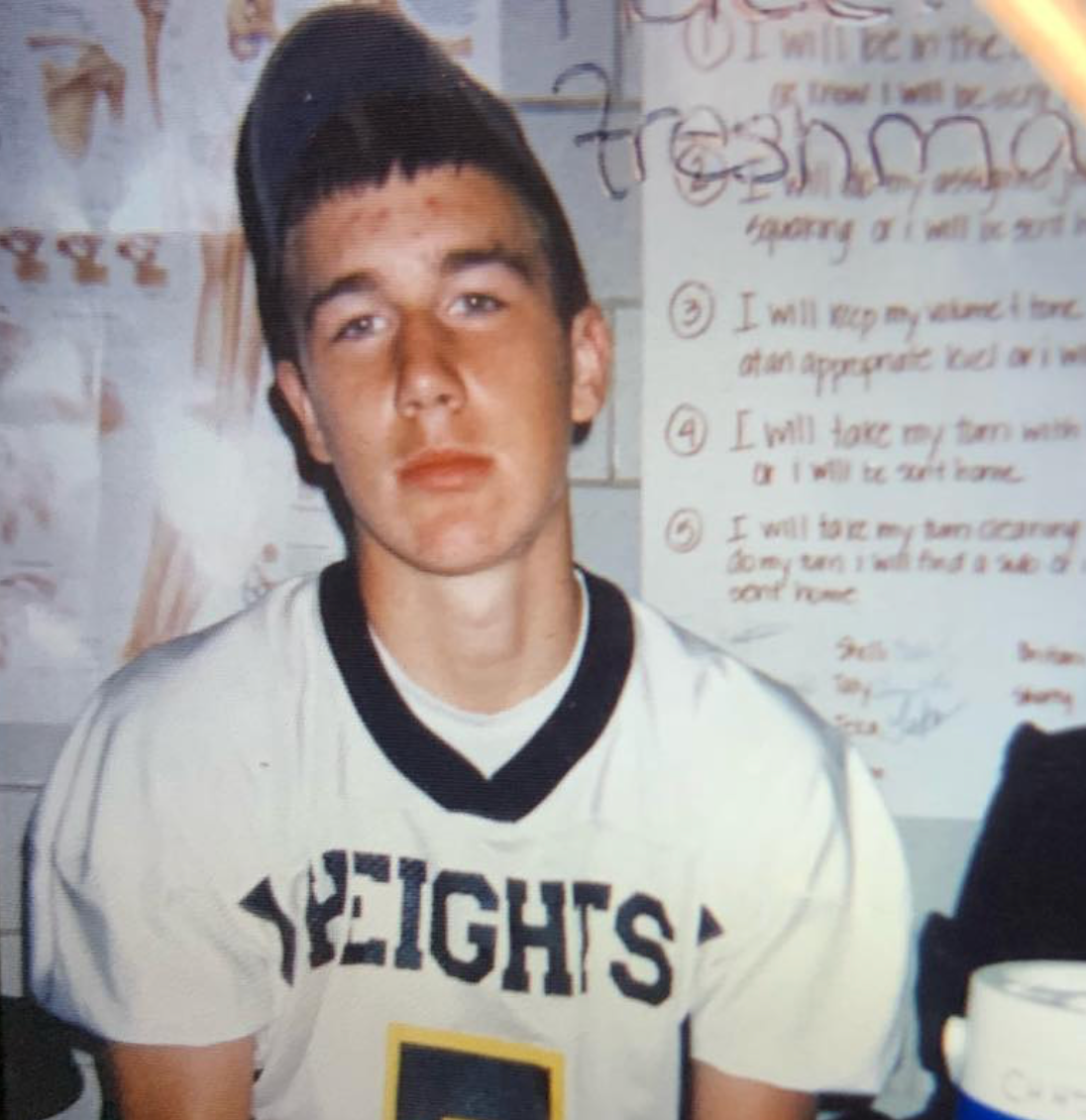 Before living his dream in the NFL as a player for the Kansas City Chiefs, Travis was once a quarterback for the Cleveland Heights Tigers, where he did not yet have his signature facial hair.
This Travis haircut look reflects his age. It made him look young with childlike innocence. But, the problem with his no-facial-hair cut was that his oblong head shape was emphasized.
How to get the Travis Kelce haircut?
In getting the Travis Kelce style, regardless of your hair type (e.g., straight hair, curly hair), you (or your barber) need to follow a general step-by-step guide which we will elaborate on in this list:
Wash the hair with water and lather in Tea Tree Special Shampoo;
Dry the hair with a Microfiber hair towel or use the ANIEKIN Hair Blow Dryer with Diffuser;
Comb the hair with the Mars Wellness Professional Comb;
Cut the hair shorton the top with a COOLALA Stainless Steel Hair Cutting Scissors and create a disconnected undercut at the sides with clippers or the Philips Norelco Multigroomer All-in-One Trimmer;
Style the facial hair with a fade, too; and
Look and feel like Killatrav.
How much is a Travis Kelce haircut?
Travis's straight hair short haircut costs around $50 to $150. It can still go higher depending on the following factors:
The barber and his professional fee
The place where you will get your cut
The tools used (i.e., clippers)
The tip
Your hair type
A similar look to Travis's (buzz cut with disconnected undercut) is generally cheaper than any other style.
FAQs
We have the answer to other hair-related queries you may have about this football star. Continue reading below to find out!
What Is Travis Kelce's Hair Type?
He has a Type 1 hair type. This means his hair type is straight and has thick strands.
However, even with a different hair type, you can still select a good style from this list to get his signature look.
What Is the Difference Between Travis Kelce's Buzz Cut and Crew Cut?
Travis's buzz cut style has a shorter top, while his crew cut is worn with a slightly longer top.
Final Words
Travis Kelce's name is a force to be reckoned with on the football field, and it's also one that's been equated to simple, practical, stylish hairstyles.
If you want to cop his signature style, all you have to do are the following:
Spare some time;
Go to your trusted barber;
Show your hairstyle inspiration from the list;
Get the cutting done through the steps above; and
Revisit this article to get the answer you need for your desired look!
So, what are you waiting for? Get that Killatrav signature hairstyle to look and feel like this football superstar!
Author of this article: Annie
Hairdresser, Hairstyle Specialist
As a hairdresser with a specialization in creating versatile and trendy hairstyles, I cater to clients of all ages, hair types, and personal styles. With a wealth of knowledge and five years of experience working in a high-end beauty salon, I'm excited to welcome you to our site and extend my gratitude for visiting!
Drawing from my years of experience crafting my own unique hairstyles and providing guidance on selecting the perfect hair products for different hair types, I have joined forces with Aida to broaden our reach and connect with a larger audience.