Lippie Hippie is a reader-supported site. Purchases made through links may earn a commission.
Learn more.
Published by Annie
---
Key Takeaways
The Bruno Mars hairstyle features an Afro-textured hair cut short on the sides and back, a long front, and a slick back pompadour on top.
The hairstyle was primarily used in the 20th century, made famous by Elvis Presley, and was revived by Bruno Mars.
The haircut suits any face and hair type, but it works best with oblong-shaped faces with curly hair, like Bruno Mars.
The Bruno Mars hairstyle is easy to recreate: wash, blow dry, cut short, apply pomade, and style.
---
When people mention Bruno Mars, what comes to mind are his suave music and iconic hair.
Peter Gene Hernandez, AKA Bruno Mars, is a singer-songwriter who captivated fans worldwide with his hit songs: 24K Magic, Billionaire, and Just the Way You Are.
Bruno Mars' thick hair, styled in either a curly pompadour or long Afro hairstyle,has only made him more popular with the people.
So check out the best Bruno Mars hairstyles and learn to emulate his iconic looks in no time.
What is the Bruno Mars haircut called?
The Bruno Mars haircut is named the wamp and stomp, characterized by thick hair with an Afro-texture that's been brushed into a pomp to emulate Elvis' classic hairstyle.
Bruno Mars generally sports a short hair length but cuts it in layers to achieve his pompadour. You can spot Bruno Mars' hairstyles with these characteristics:
Short rim and under-the-rim parts of the head
Longer top hair
Short to medium-length hair at the back of the neck
Bruno Mars's pompadour has its roots in France, during the early 20th century, as the perfect royal man cut. It has since become associated with the great Elvis Presley. [1]
5 Bruno Mars haircut styles
Here are five Bruno Mars hairstyles and haircuts to level up your look.
Curly Pompadour Hairstyle
The Bruno Mars hairstyle that made the internet and the music industry go wild is his curls in a pompadour hairstyle shown in the photo. The following features are what make this hairstyle:
Short sides
Long top
Short to medium back
This haircut fits all face shapes, but for reference, Bruno Mars has an oblong face shape, with a bit of squareness and heart brought about by his well-angled jaw and broad forehead.
The curly pomp hairstyle complements his facial shape, lessening the wideness of the forehead by giving dimension on top through the curls. The hairstyle also tames the strong appeal of Bruno Mars' jaw thanks to its volume.
It provides a fresh look for Bruno Mars' thick curls and can be used on an awards night stage performance or a casual night out. Bruno aces the look wherever he goes, and so can you.
Slicked Back Hairstyle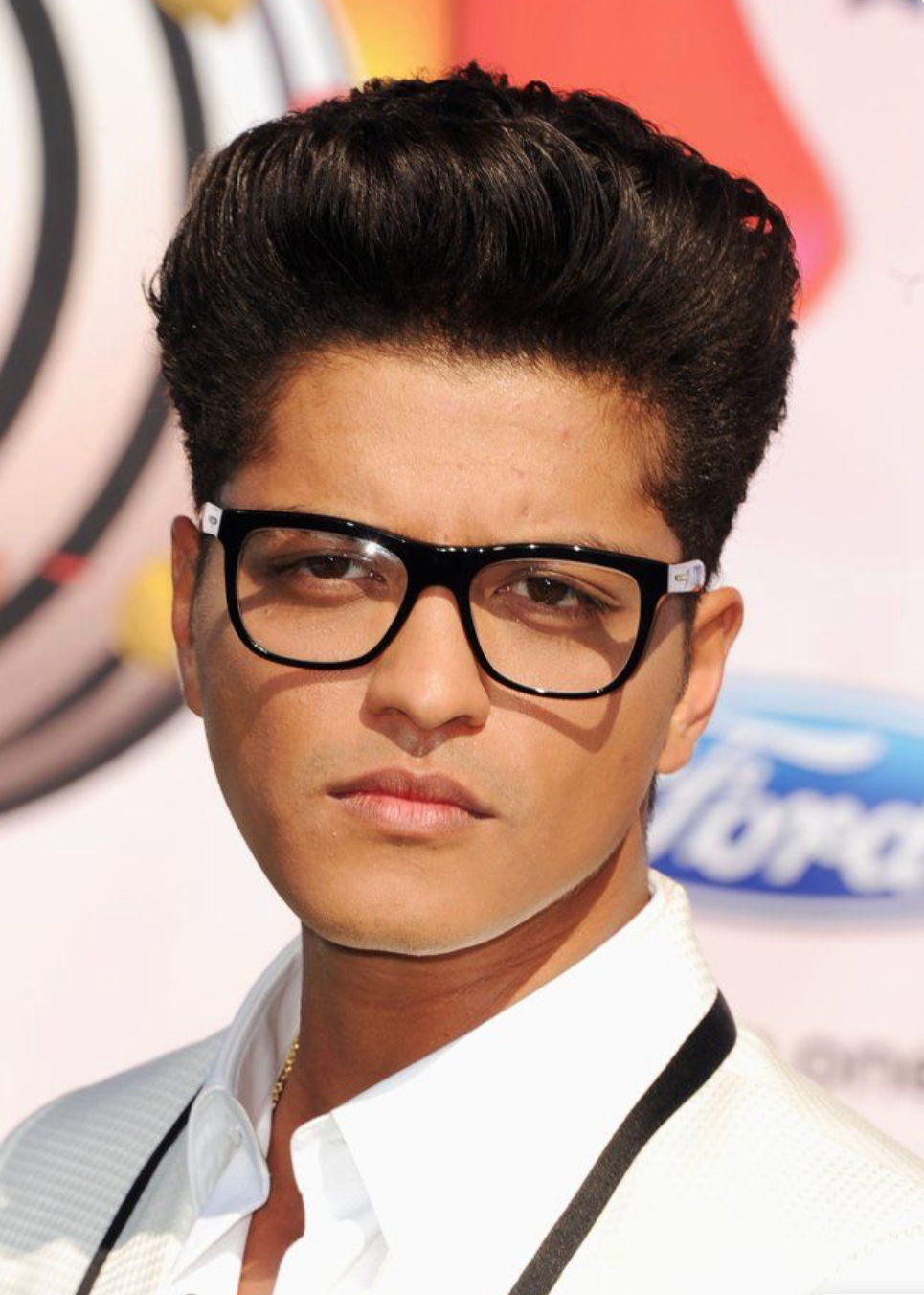 Looking suave is not the only thing Bruno Mars pulls off. He can also look clean and sharp with this slicked-back hairstyle.
This hairstyle gives off a retro vibe with the combed-over long front hair. A hydrating conditioner can be added to your hairstyle must-haves to make it as shiny as Bruno Mars'.
High Layered Hairstyle
Another Bruno Mars hairstyle is the high layer. It has the suave of a pompadour and the vibrance from the movements of his curls.
This Bruno Mars hairstyle is defined by its short sides, back, and long top. But what sets it apart from the pompadour hairstyle are the following additions:
Fade on the sides
Blending of different lengths of hair
For oblong-shaped faces, a high-layered haircut perfectly balances casual and formal fits because it adds hair volume and hair texture while providing a younger look.
Curls and Cap Hairstyle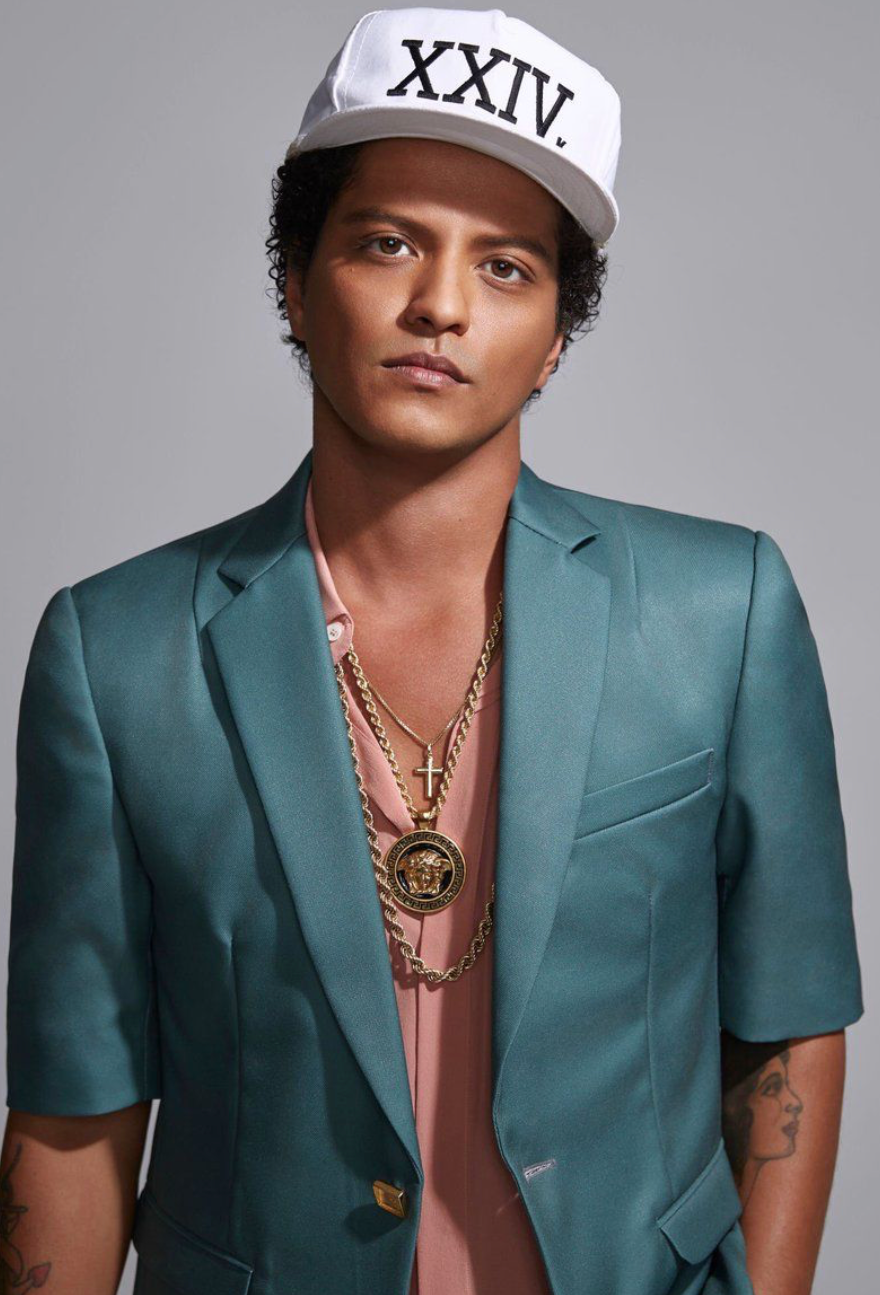 If you have a broad forehead like Bruno and don't want permanent changes on the hair, you can use a cap, as seen in the picture above.
The cap lessens the visibility of the forehead and adds character to the overall fit. It can even be a statement piece, depending on what cap styles you want to sport.
Long Afro Hairstyle
This hair list wouldn't be complete without Bruno Mars' long Afro haircut.
Bruno Mars' Afro-textured hair is beautiful, as its natural growth direction is preserved through a haircut and styling using a hair pomade product.
This hairstyle in the picture diffuses Bruno Mars' oblong face because of its ability to make a face more round through its volume.
How to get the Bruno Mars haircut?
Through his suave vocals and the hairstyles he sports, Bruno Mars has this easygoing charm and charisma that appeals to many people.
To emulate the famous Bruno Mars, here is a step-by-step guide with tips and advice on how to get a Bruno Mars haircut your barber can adjust to your liking:
You can add a fade or a nice hair line cut to balance the height of the pomp haircut and the high layers hairstyle.
TIPS: The combination of blow-dried hair and pomade products makes all the difference in achieving the Bruno Mars haircut.
How much is a Bruno Mars haircut?
The Bruno Mars haircut doesn't cost a lot. The haircut ranges from $50 to $200, depending on the location and barber's fees.
Final Thoughts
Bruno Mars always delivers with good music and good hair. To get the picture-perfect Bruno Mars haircut and style, it's best to check out the hairstyles we mentioned in this article.
Author of this article: Annie
Hairdresser, Hairstyle Specialist
As a hairdresser with a specialization in creating versatile and trendy hairstyles, I cater to clients of all ages, hair types, and personal styles. With a wealth of knowledge and five years of experience working in a high-end beauty salon, I'm excited to welcome you to our site and extend my gratitude for visiting!
Drawing from my years of experience crafting my own unique hairstyles and providing guidance on selecting the perfect hair products for different hair types, I have joined forces with Aida to broaden our reach and connect with a larger audience.