Lippie Hippie is a reader-supported site. Purchases made through links may earn a commission.
Learn more.
Allen Iverson Braids Styles & Examples (Guide With Pictures)
---
Key Takeaways:
Allen Iverson is an NBA legend from Virginia who was famous for his basketball skills and hairstyles.
Iverson braids follow the style of cornrows while incorporating several patterns to create a unique look.
Iverson braids work best with curly, coily, kinky, and textured hair.
To make the Iverson braids, you need to master doing cornrows first. From there, you can experiment with different designs and a combination of several braids.
---
Allen Iverson, a.k.a. "The Answer," was an NBA player from Virginia who debuted his career at 21 years old with the Philadelphia 76ers in the 1996 NBA draft.
Iverson is HIGHLY REGARDED in the sport for his shooting and ball-handling skills, plus his dancing feet on the court.
With his notorious talent, many people grew to love him. He also won several awards, like Most Valuable Player, Rookie of the Year, and Sportsman of the Year.
But, aside from being the NBA player Allen Iverson that he is, the athlete was also known for his iconic hairstyles.
The medium-sized cornrows and tattoos were the revolutionary fashion statement he wore during the 1997 NBA All-Star Weekend.
Many officials attempted to persuade Iverson to tone down his style. However, the player wanted to project his true flashy personality in his looks and continued wearing his fashion.
Eventually, many players picked up on the trend Iverson introduced, and they started experimenting with intricate designs on their hair.
What is Allen Iverson's hairstyle name?
The Allen Iverson braids take inspiration from the traditional cornrow braids worn by the Black community.
These tight braids are used as a protective style for people with curly, coily, and textured hair. Cornrows are meant to protect the hair from loss of moisture and breakage.
Apart from this, African communities also used cornrows to signify one's tribe, marital status, religion, how they stand in society, and the like.
Non-Black people also use cornrows for fashion. Others, on the other hand, would do these braids to make a base for sew-in hair extensions and wigs.
Doing cornrows is relatively easy, and you can surely do it at home. It follows a technique of braiding hair against the scalp to make zig-zag and other intricate patterns.
Cornrows are LOW MAINTENANCE too. This is actually the reason why Allen Iverson came up with the idea of maintaining cornrow braids.
Allen Iverson braids styles can be classic style or unique style. You can experiment with them however you like.
But for this article, we listed 10 Allen Iverson braids for your inspiration. Scroll through and pick your best choice!
Zigzag Iverson Braids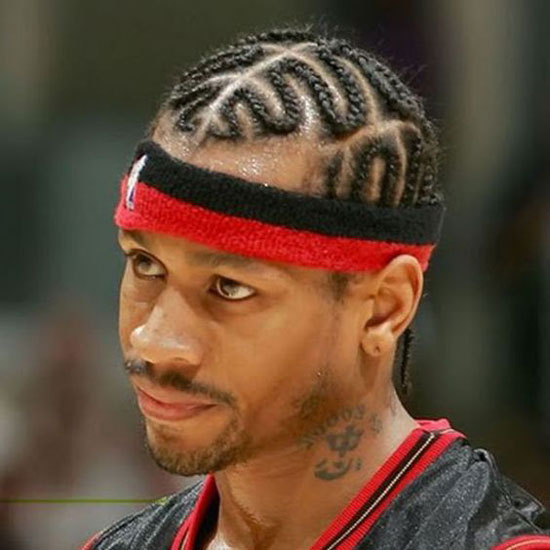 The zigzag Iverson braids is not the most simple style to wear. It leaves cool patterns on your head that scream SWAG and SOPHISTICATION.
It's not as easy to imitate compared to regular cornrows because of its zigzag parts. It appears as if the hair sections glide and twist from the hairline to the back.
Fishbone Iverson Braids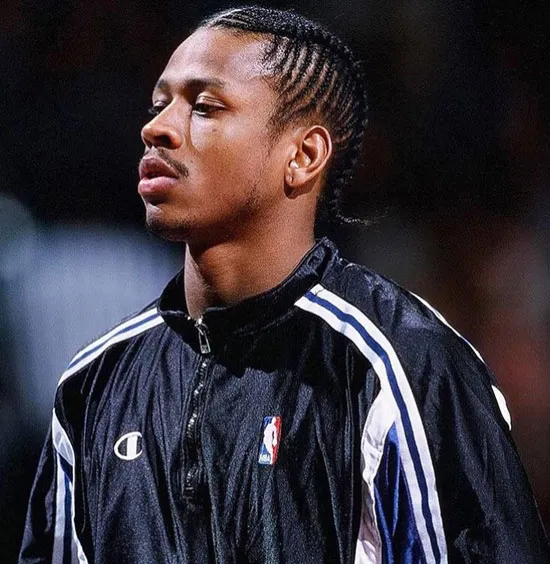 The fishbone Iverson braids got its name because of its patterns. As you notice in the image, the hairdo appears like a bare fish, with its ribs exposed.
It follows the classic cornrows. But the hair is braided horizontally instead of vertically. It also has two thick braids between the small horizontal braids.
Spider Iverson Braids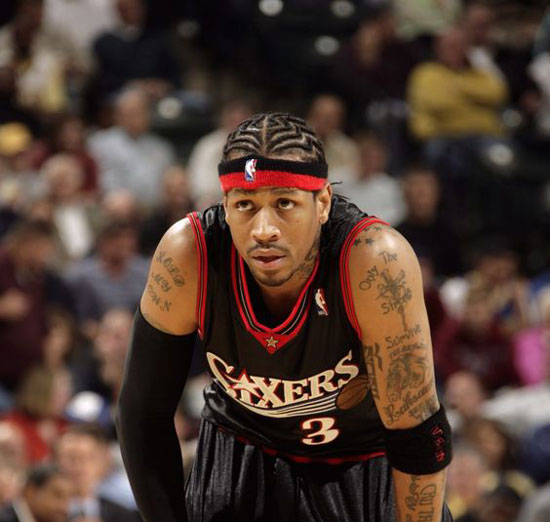 Another style to do for the Iverson braids is the spider-like pattern. This is another zigzag braided hairstyle that imitates the look of spider legs.
It was said that this stylish hairdo was made to mimic his spider-like reflexes on the court.
These braids are far from the simple pattern of cornrows. So, if you want a look that would make you STAND OUT, this could be the answer.
Snake Iverson Braids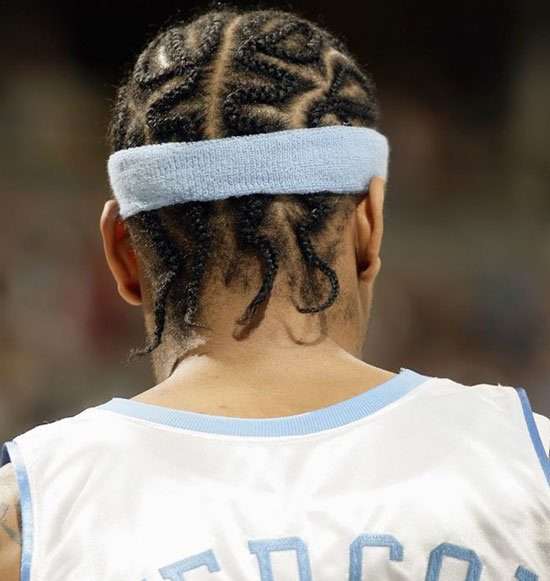 The snake Iverson braids follow several intricate designs of zig zag and twists. It's not only inspired by cornrows. As seen on Iverson's head, the braids overlap with each other.
This may not be the easiest Iverson braids to create. But, it's one of the bold hairstyles to do to catch the audience's eyes.
Maze Iverson Braids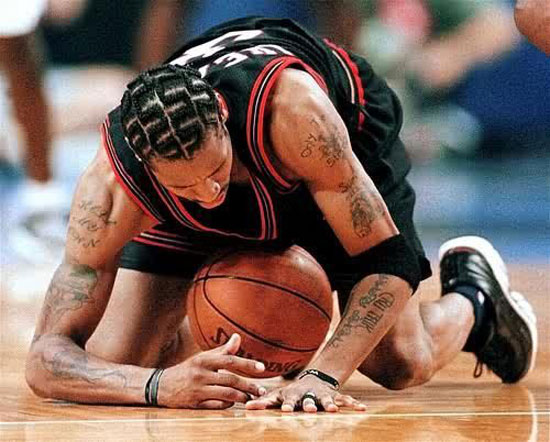 Another one of the Iverson braid styles is the maze. His cornrows are shaped like a maze, similar to how box braids are worn.
This may look like simple braid work. But you need to be particular with creating each section of the hair.
Multi-Pattern Iverson Braids
As its name suggests, the multi-pattern Iverson braids is a style that picks up several patterns of cornrows.
It fills the head with diverse looks like snake braids (zig zag, twists, curves), but without the cornrows overlapping with each other.
Quadruple Iverson Braids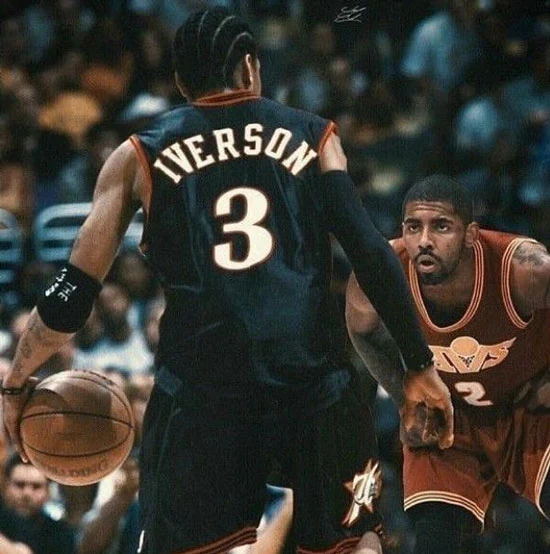 The quadruple Iverson braids can be the most BASIC and simple style to wear, as it adapts its braid technique from the classic dutch braids. But instead of just doing two braids, you must do four.
Zigzag Iverson Braided Parts for Women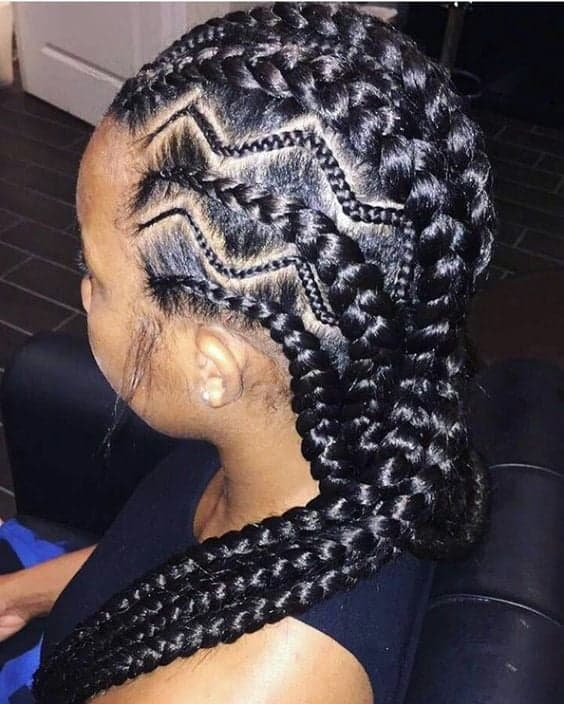 Women can surely slay fashionable cornrows like Iverson. This zigzag Iverson braids-inspired look consists of thick braids and zigzag cornrows that are placed alternately.
Iverson Braids High Ponytail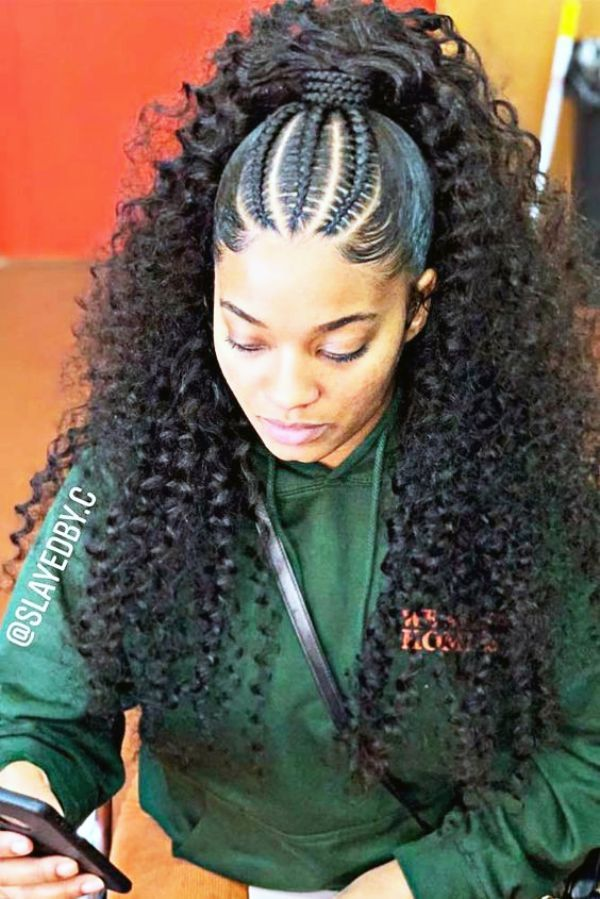 Here's another style that's worth the try for women — simple cornrowed hair! But, instead of braiding all the way down, the excess hair is tied into a high ponytail.
This style is great to re-create, especially if you have long hair. You can also use hair extensions if you have a shorter mane.
Allen Iverson Braids for Little Girls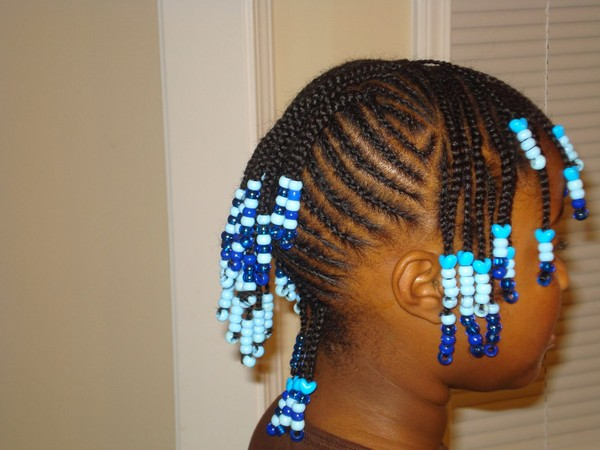 Iverson braids will certainly look CUTE and ADORABLE when braided on your girl's head. This pretty girl in the photo wrapped her hair with some beads to amp up her braid style.
Who is the Allen Iverson hairstyle suitable for?
The Allen Iverson braids are suitable for curly, coily, and textured hair.
Yet, the style can be versatile with any hair type. So, if you have straight hair, it's still possible for you to slay the Allen Iverson braids.
But the catch is you need LOTS of products to build up your hair's texture before you braid. This will help your braids appear to have more volume like other hair types.
How to get Allen Iverson braids?
You probably know the perfect Iverson braids styles for your hair, and you're already excited to style.
Call your favorite stylist or local salon to get your braids if you want to make life easy. But if you want a fun project to work on, we got you!
Doing the Allen Iverson braids is simple, and you can definitely do it on your own or ask help from your best friend or family at home.
Follow these steps to do the Iverson braids:
Clip the hair on your sides using hair clippers by creating a low or mid-fade to ensure a clean look.
Prepare your hair by washing it with shampoo and conditioner. If you have textured or frizzy hair, we suggest using hydrating products to moisturize the strands.
Blow dry and comb your mane after washing. With a detangling comb, gently detangle your strands to make them easier to work with.
Part your mane in the middle using a rattail comb. Secure the other half with elastics before you start braiding the other side.
On your working side, make another partition and secure one side with an elastic. In total, you must create 2 vertical sections on each side of the head.
Start braiding your first section horizontally. Pull some strands, apply ample hair butter, and weave the hair from the scalp starting from the temple towards the crown. Basically, you're trying to braid the hair inwards. Once you're already near the partition, stop braiding from the scalp and make loose braids instead.
After braiding the first section, head on to the next. This time, you need to work in the opposite direction, from the crown towards the temple. Create horizontal braids in an outward direction, ensuring the loose ends meet.
After which, make one thick braid from the ends by working from the crown to the back and secure it with elastic.
Repeat steps 5 to 8 in the other section.
NOTE: Make sure that your braids are not too tight, as they may damage your hair.
You may also like: The 27 Best Shampoos and Conditioners for African-American Relaxed Hair
Former hairstyles of Allen Iverson
Before the NBA legend became known for his iconic braids, he wore a different hairstyle.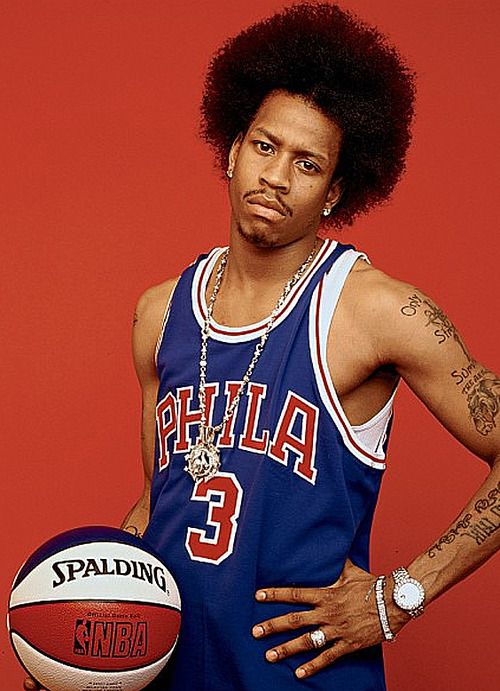 Formerly, he wears an Afro cut – a voluminous style that is a common result of growing out kinky or coily hair, eventually forming a large ball shape.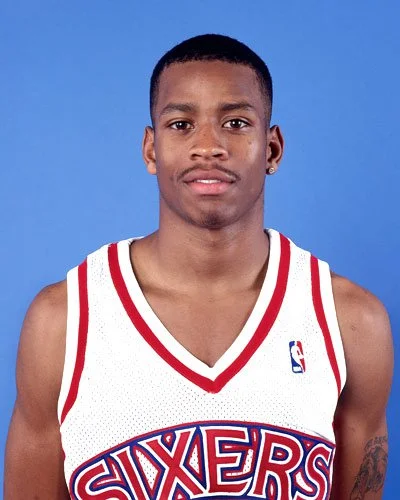 As a rookie, Allen Iverson maintained a short haircut, which appeared like a low to mid-fade style on the sides, and straight sharp edges that cut through the hairline.
Eventually, due to Iverson's frequent trips as an NBA player, he couldn't get a hold of one hairdresser to maintain his hair.
Thus, he came up with the idea of keeping his hair neat with a cornrow to save him from the stress of trimming his hair.
This is contrary to popular belief that the revolutionary braids have the intention of creating a trend and projecting "thug" hip-hop looks.
Final Words
While Iverson braids were an unusual style in the NBA at first, it still caught people's interest.
If you're looking for a unique fashion statement, Iverson braids are the way to go!
Book an appointment with your local stylists or try experimenting with this new look at home. Iverson braids are a great way of creatively expressing yourself in style.