Lippie Hippie is a reader-supported site. Purchases made through links may earn a commission.
Learn more.
9 Dashing Maluma Haircut Ideas, Styles, and Trends
Published by Aida Turner
Fact checked by Annie
Key takeaways:
Colombian singer Juan Luis Londoño Arias invented the Maluma hair trend.
The Maluma haircut is a faded cut where the back and sides are tapered short.
These styles suit those with proportioned, square, or oval-shaped faces.
This is easy to achieve; just wash, choose a length, buzz the sides, back, and top and taper the edges.Juan Luis Londoño Arias, a media personality known as Maluma, is a Colombian singer, songwriter, and actor. He was born on the 28th of January, 1994.
Maluma's music career peaked in 2012 as he released his first studio album, "Magia," which became a gold record in Colombia and earned a Latin Grammy nomination for best artist.
Currently, he added movie actor to his resume, as he is voicing the character of Mariano in the latest Disney movie, Encanto.
However, Maluma's fame does not only revolve around his career.
He is widely known for his different hairstyles, ranging from buzz cuts, crew cuts, man buns, and more!
What is a Maluma haircut called?
The primary haircut of Maluma is buzz cuts. This hairstyle is also known as a fade haircut, with the back and sides tapered short.
Buzz cuts will make your face MORE defined as your barber will cut hair in a short manner. This type of style is popular with men who want short and low-maintenance styles.
It is also used by Nick Jonas, a prominent singer-songwriter and media personality from the Jonas Brothers:
If you're afraid you can't pull off this hairstyle, worry no more because this style is made for everyone!
It just happens that Maluma and Nick Jonas can pull it off better than others.
Additionally, it is no surprise that Maluma is constantly changing his hairstyle. With that, let's look at the different haircuts of Maluma over the years:
Maluma Long Hair
Over the last few years, Juan Luis has had various styles, such as a crew cut, messy hair, and dyed pink and blue hair.
However, in 2018, Maluma's hair was frequently worn down, curly, or in a ponytail.
This fashion style laid out various comments on the news because how can a man be so neat and handsome with a messy hairstyle?
On World Cancer Day, Maluma visited the Miami Cancer Institute and let the kids and staff take part in cutting his hair. He even posted the video on his Instagram website!
This video gathered positive comments because it was the first time he had cut his hair without his professional barber.
And guess what? Maluma's actions swept our hearts, and we love every bit of it!
Maluma Long Blonde Hair
If you want to have a unique sense of style, long and platinum blonde will be the best option you can choose!
Just like Maluma, you can style half the length of your hair with the opposite color. For instance, you can have it colored ash and black.
However, coloring your hair on your own can cause potential damage. You only need a hairdresser to make it possible and save yourself from any risk.
Maluma Long Black Hair
Maluma's black and long hair is also one of the styles he nailed! It's a huge bonus to pair it with facial hair to achieve a smooth yet sophisticated look.
These types of haircuts are inclusive for everyone as they will FIT perfectly! However, you should keep your hair combed every now and then to avoid these styles from being messy.
Maluma Short Hair
So much of the long hair, and now let's look at the short and clean hairstyles of Maluma that piqued our interest a thousand times!
Buzz Cut Maluma Short Hair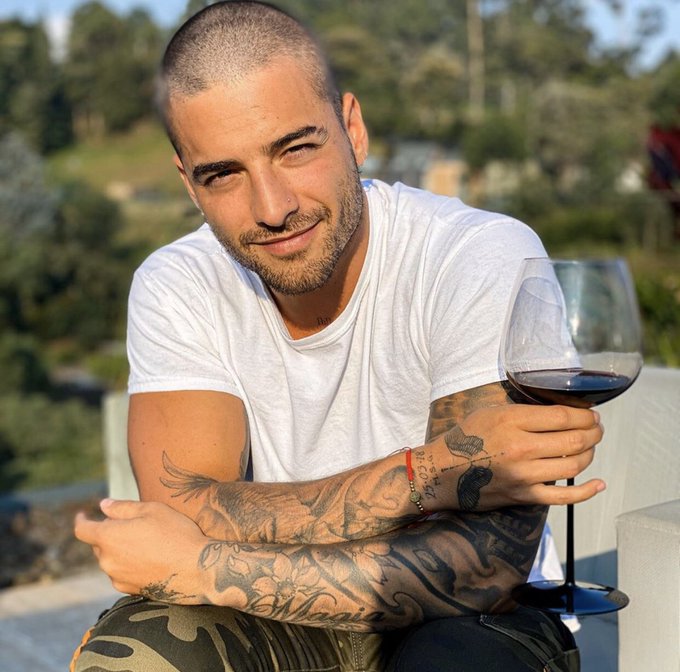 The best explanation for why Maluma favors shorter hairstyles is that he pulls them off better than anyone else.
He looks sharp and slick and serves on-point looks without exerting effort!
If you want to have a low-maintenance and hassle-free style, buzz cuts are the best style you can opt for. Indeed, eyes will be laid on you after getting this style!
Maluma Short Blonde Hair
Maluma's hairstyle is NOT complete without an accent, regardless of length. With this, he inspired various men to color their hair and flaunt it confidently!
However, you need to remember that the roots of your hair SHOULD NOT BE colored to avoid risk and damage.
If you are interested in coloring your hair, we recommend you search for tips and watch YouTube videos to do it safely.
Fade Maluma Haircut
This Maluma's hair screams a bad boy vibe because the hair is cut towards the top. Some say it is a work of art, and we couldn't agree more because Maluma wore it BEST!
This style is suitable for men in the Military as it offers a clean and presentable look.
Taper Maluma Haircut
Hairstyles such as taper cuts present a mature persona because the cut direction follows a particular point or line.
Some would say it is weird, but Maluma is the living reason that extraordinary and impossible haircuts can be fun and unique!
Maluma Haircut Mohawk
While some of his mohawks have a gradual taper fade across the sides, others have little to no side hair.
The versatility of the Mohawk's styles, including undercuts that can be blended, bleached, skin faded on the sides, left natural, or classy, can make it so attractive.
Who is Maluma Hairstyle Suitable For?
The Maluma hairstyle is suitable for those with an evenly proportioned, square, or oval-shaped face.
If the shape of your face does not fall under the brackets, you can STILL pull it off, but it requires beard grooming to square off your jawline.
How to get Maluma haircut?
If you want to achieve the Maluma style, listed below are steps that you can use as a guide:
Wash and pat dry your hair. Before the haircut session, wash your hair with Aveeno Scalp Soothing Apple Cider Vinegar Blend Shampoo to avoid oily and dull hair.
Gather Supplies. We recommend Wahl Clipper Color Pro Complete Haircutting Kit as your clipper and OLIBUY 3-Way Mirror for Hair Cutting. Prepping all needed materials will allow you to have an easy-going haircut session.
Choose a Length. Before proceeding, choose the desired length of your hair. Make sure not to make it a bit short or long.
Buzz the Sides, Top & Back. Use theWahl Clipper to cut your hair. This will make sure that you will have balanced cuts on all sides.
Taper the edges and detail the cut. Use theAndis 04710 Professional T-Outliner Beard & Hair Trimmer to tap the edges. This will help you achieve a clean finish.
Apply a powder. Hairs can be itchy when in contact with your skin. To remove fallen hairs, use the Clubman Pinaud Powder.
Former hairstyles of Maluma
If you are wondering what the older hairstyles of Maluma are, take a look at this section!
Crew Cuts
A crew cut is another military-inspired haircut. However, it is a longer version where the side and back of the head are tapered short, but the front hair stays as is.
You can use a trimmer to groom your hair into crew cuts, but you may require a 3D mirror to see the back.
Also, apply hair products such as gel to achieve a perfect, carefree, messy crew cut.
NOTE: Fade and crew cuts vary on the frontal hair.
Dyed Hair
Maluma loves dying his hair with different colors, such as pink, green and blue. With this, men are now coloring their hair even if they have a buzz cut!
Maluma encourages most men nowadays to express themselves and their aesthetic sense of fashion.
However, you should NOT limit yourself to the colors that he used. You can personally choose what color is suitable for your hair and skin color.
Man Bun
One of the hairstyles that Maluma formerly used is the man bun. However, to achieve this style, you need to have long hair.
Also, there are two choices on how to fix your hair, and these are:
Perfect Ball: Tie all of your hair up in a neat man bun to resemble a perfect ball.
Ponytail: Tie your hair loosely and let some of the ends fall out; this way, it resembles a ponytail.
In maintaining it to be messy-free, always comb your man bun.
Slick Side
The majority of Maluma's haircuts are typically very daring and striking. However, this one is chic and sophisticated. If you want to appear classy and mature, focus on achieving this style.
You just need to make a side partition and have hair about shoulder length.
For a sleek appearance, use some hair wax or gel. Give your hair a little length at the front if you want to style it like Maluma.
FAQ
Final Words
Maluma is widely known for his music career. However, during the last few years, the world has been shaken and amazed by his continuous change of hairstyles.
Some would say it is a bit much, but most people say his style is a work of art. If you are a fan of Maluma, there is a big possibility that you will imitate his look and style, too!
Aida
Founder & Hair Beauty Specialist
I'm Aida and this is my blog where I write mostly about beauty and make up related stuff, but I like to spice it up a bit with lifestyle and photography posts. Or with whatever that comes to my mind. Hope you will enjoy the reading enough that we will 'see' each other more often!