Lippie Hippie is a reader-supported site. Purchases made through links may earn a commission.
Learn more.
24 Simple Ways & Hairstyle Ideas on How to Get Beach Waves
Published by Aida Turner
Fact checked by Annie
Key takeaways:
Beach waves hair is a summery hairstyle that mimics the kind of hair you'd get after a day by the ocean.
This hairstyle spread throughout the beauty community after the 2003 Victoria's Secret Fashion Show, after being worn by supermodels like Tyra Banks and Adriana Lima.
This hairstyle suits anyone, regardless of whether your hair is long, short, straight, wavy, or curly. Check our 24 ways to get beach waves.
You can easily ask your hairdresser for beach waves since they're common nowadays. Depending on the services they render, you can expect to pay anywhere from $40 to $200.
If you open Instagram, watch a TV show, or look at the latest Hollywood news, you'll see women with a summery hairstyle that seems so natural it's like they woke up like that.
Beachy waves are all over media these past years — but let's dive back into some beauty history to get an idea of where it all started.
Perhaps the EARLIEST sign of this style was in the early 2000s when Friends Season 8 aired.
In one of the episodes, Jennifer Aniston's character Rachel Green sported a haircut that wasn't straight but also wasn't exactly wavy.
Sex and the City was also big in the early 2000s, and people wanted Carrie Bradshaw's messy waves.
But maybe the BIGGEST thing that pushed the hairstyle into popular beauty culture was the 2003 Victoria's Secret Fashion Show. Here, supermodels like Tyra Banks and Adriana Lima had beachy waves rather than previous years' usual straight and shiny hair.
From then on, the style has spread through the beauty community and evolved throughout the years.
What Is the Beach Waves Hairstyle?
This hairstyle makes you look like you had a swim in the sea and finished letting your hair air dry in the sun.
It's a naturally irregular style since making it too perfect and symmetrical will take away the beachy feel.
Celebrity hairstylist Ryan Trygstad describes the hairstyle as an "elongated wave" — meaning it follows a natural wave pattern that ends straight.
What Is the Ideal Hair and Face Shape for the Beach Waves Hair?
This trend can be EVERYONE'S go-to hairstyle!
That's because it's a seemingly effortless look that suits anyone, regardless of their hair type, hair length, and face shape.
After all, the style mimics the effect a beach day will have on a person's hair — and everyone can go to the beach!
24 Tutorials on How to Do Beach Waves
Since it's a very versatile hairstyle, we'll show you a few different ways you can create beach waves:
Beach Wave With Heat
To be clear: to create beach waves, you NORMALLY need heat styling. In this section, we'll show the basic equipment you can use. The below video shows an example using a curling iron:
Video:
Apply heat protectant.
Section off your hair to make it easier to distinguish which parts you're working with.
A curling iron with a small barrel is better here since it can create more natural-looking curls. Twirl a section of your hair around the iron for a few seconds.
Let your hair out. You can choose to catch the curls in your hand and hold it for around a minute so they can set better.
Repeat until you've curled all sections of your hair.
Beachy Waves with Curling Wand
A curling wand is pretty much a curling iron — except it doesn't have a clamp. So, be careful when you're using this.
Beach Waves Blowout
The heat you'll be using here comes from a blow dryer. Start with wet or damp hair, then wrap some hair around a round brush. Point the blow dryer to the section of hair and slowly unwrap it when it's dry.
Beach Waves with Flat Iron
If you don't have a curling wand or curling iron, a flat iron works well too! Just flip the flat iron away from your face, then slowly slide it through the whole strand.
Beach Waves with Crimper
A crimper has zigzag plates that can easily add texture to your hair.
Beach Waves For Long Hair
When you picture the perfect beach waves, you probably imagine long voluminous hair. Here's how you can achieve that:
Video:
Section your hair.
Wrap your hair around a curling iron, but leave around two inches out.
Hold it for a few seconds.
Carefully drag the iron down.
When you're working on a new section, make sure to brush it thoroughly so it's smooth and free from tangles. (PRO TIP: Break your hair into large sections and use a small barrel curling iron to help you work with your long hair faster.)
Beach Wave with Braids
Adding braids to this summery look is a great way to take it to the next level. Crown braids will work best since they can help emphasize your curls!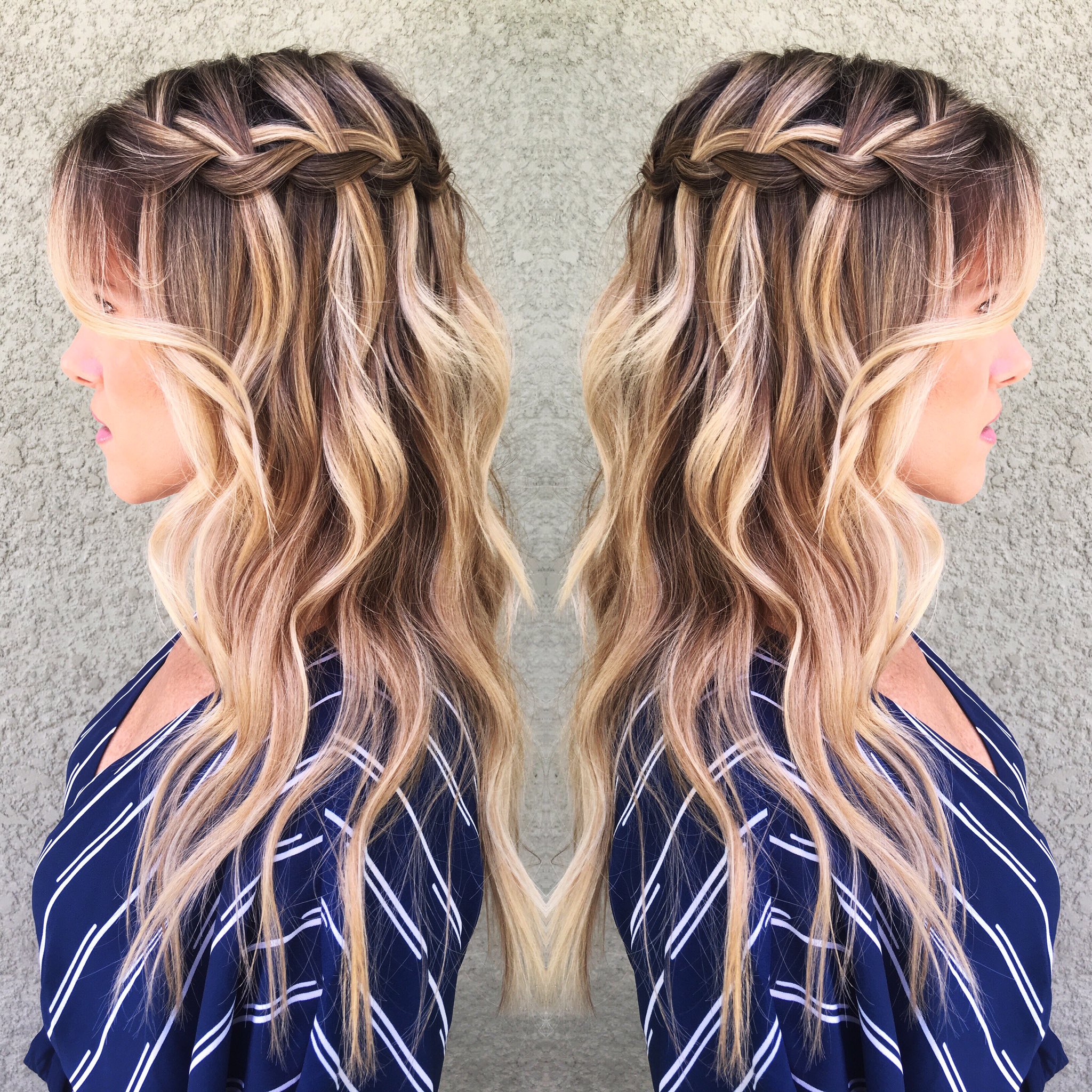 Layered Beach Waves
Layers can give your hair more volume.
Ponytail Beach Waves
A beach wave starts around halfway down your hair, so having a ponytail won't affect the style.
Messy Beach Waves
Messy waves are more imperfect than usual — but they can look elegant, cool, or casual, depending on how you're styling yourself for that day.
Beach Waves For Short Hair
Short hair is trickier to style than long hair — but not impossible! Here's how:
Video:
Section your hair.
Start working from the front. Since you have short hair, leave out just half an inch to an inch of your ends.
Go in alternate directions sometimes (especially when dealing with the undermost layers of your hair), so the waves don't look too coiffed.
Beach Waves Bob Hairstyle
Styling your bob with a beach wave is an easy way to give it some volume.
Beach Wave with Bangs
Adding bangs can make you look more playful. Of course, depending on the kind of bangs you have, you may or may not curl them too. If you have blunt or wispy bangs, it might be better to let them keep their natural texture.
Beach Waves Straight Hair
This hairstyle is a perfect middle ground between curls and straight hair. Because of that, you'll just have to worry about getting those soft curls in place.
Shoulder-Length Beach Wave
Mid-lengths can be pretty awkward to style since they're neither long nor short. But a beach wave will suit them since it can tame or hide any flyaways at the end of your hair.
Fancy Beach Wave
We call these fancy simply because it would be better if you get at the hairdresser for the BEST results.
However, you can also try them at home with enough effort. Below is one example of wedding hair:
Video:
Apply heat protectant.
Section off more than half the top of your hair and curl the lower part first.
Wrap your hair around the curling iron. If you have long hair, leave out around two inches of your ends to leave them straight.
Slowly work your way up to the top of your head.
Apply texturizing spray after every layer.
When you're done, give yourself (or ask someone to give you) a crown braid.
Beach Waves Wedding Hair
Having perfect waves for your special day will naturally make you look like a goddess.
Beach Waves Perm
Perms will make your curls either permanent or semi-permanent. That means you don't need to bother with a styling product every day!
Beach Waves Perm Men
Who says perms and beachy waves are only for women? Men can get that summery look too.
Beach Waves Crochet Hair
Crochet hair is essentially hair that has extensions attached to your actual hair using a latch hook. How this will work is basically crochet your hair first, then curl the extensions.
Subtle Beach Wave
Subtle waves give off that relaxed, live-in feel. Since they're subtle, you don't have to make your curls as obvious as you usually would. Here's how to do it:
Video:
Start with the front pieces of your hair.
Don't leave your hair around the curling iron for too long since you want soft waves.
Gently unravel your hair from the iron.
Use a wide-toothed comb to gently comb through the curls.
Soft Beach Waves
For a softer and more subtle finish, curl only the middle part of your hair and leave the ends straight.
Fine Hair Beach Waves
Fine hair can be relatively easier to deal with than thick hair — but they also tend to be more lifeless. Luckily, even subtle waves can already do miracles in giving it more volume.
Beach Waves for Thick Hair
Thick hair can be pretty hard to style since they're heavier than other hair textures. You can trim it or add layers to "take some weight off." A subtle wave is good since it doesn't require you to style it too much.
Beach Waves for Curly Hair
Girls with curly hair can get beach waves too! Thanks to your natural texture, it can be pretty easy since you don't need a curling iron.
How To Get Beach Waves Without Heat?
You read that right: You don't always need hot tools with this hairstyle!
For this, you'll need to fix your hair for a few hours in such a way that they end up wavy when you take off whatever you fixed it with.
Because of how long you'll need to wait for this, you can even make them "overnight beach waves."
You can do this with damp (not wet!) hair or let them air dry completely before trying to curl them.
Below is a no-heat beach wave guide using braids:
Video:
Part your hair.
Braid each part of your hair. You can divide it into just two sections or further divide them.
OPTIONAL: Though we're talking about no-heat options, you can apply heat at this point if you want. Take a flat iron and use it on the braid. This will help make the strands curl quicker. Just remember to apply heat protectant before you start to braid.
Sleep on it!
When you wake up, take off the braids and gently run your fingers through the strands.
French Braid Beach Waves Hair
If you're doing a French braid, that means more of your hair can be part of the beachy wave!
Curling Ribbon Beach Waves
Just part your hair in half, then wrap your hair around the curling ribbon. If you don't have a curling ribbon, you can use a thick bathrobe belt, knee socks, or tights. You'll also need four hair ties — two to secure your hair at the end of the ribbon and then another two when you twist them into buns.
Headband Beach Waves
Starting with a few strands, twist hair around the base of the headband. Then get more sections. Do it on the other side of your head too. When you're done, just tuck the tips into the headband.
Buns Beach Waves
All you have to do here is section and twist hair into two (or more) buns.
How to Maintain a Beach Waves Haircut?
It can take some time to get beach waves that are PERFECT — even when you're having a hairdresser do it.
Because of that, you'll want to make sure your curls last longer. Here are ways you can do so:
Don't wash your hair every day. Clean and smooth hair is essential to the beauty of this hairstyle. However, washing your hair every day can strip it from its natural oils — which are what help keep good hair texture. If you don't think you can stand not washing your hair for a day or two, use dry shampoo on those days. Dry shampoo can help increase the effectiveness of sea salt spray.
Use sea salt spray. Use this texturizing spray on your hair to help add some bounce and extra volume. If you spray on damp hair, you're letting the strands curl together to give your hair more body. But if you spray on dry hair, you can make more distinct waves. The John Frieda Beach Blonde Sea Salt Spray is an excellent spray to get since it's suitable for all hair types — even color-treated hair! It's gentle enough that you can spray it on every day to enhance your look.
Moisturize your hair. Dry hair doesn't look good, so conditioning them can give you healthy relaxed hair without weighing them down. Voir She's Like the Wind: Invisible Dry Shampoo and Conditioner is a two-in-one spray that soaks the grease from your roots. It's weightless and hydrates your hair. It comes in a small bottle too, so you can spray it on anywhere!
Braid your hair. Braiding is an easy way to preserve smaller and tighter waves. Just braid sections of damp hair, and keep them for as long as you want — but make sure you don't use a hair tie too close to the top of your head so your curls are more natural.
Twist your hair into buns. Buns are for relatively bigger waves. But you can also twist your braids into buns for that extra curl or if you plan on sleeping on them.
How Much Does a Beach Waves Haircut Cost at a Hairdresser?
If you're asking for JUST the curls, it would cost a minimum of $20.
If you decide you want a perm, that can cost anywhere from $40 to $200 — although the average price is $80.
But if you want a haircut to get rid of some weight on your head before you start curling, then that's an additional cost of around $40.
If you're not sure what service to ask for, you can talk to the hairdresser to help you choose the right hairstyles that can suit you.
FAQs
Beach waves are certainly a hairstyle anyone can pull off. To help further guide you, we've answered a few questions:
Conclusion
Beach waves took the beauty community by storm — and with good reason! After all, they suit ANYONE.
They're quite easy to make at home, too, as long as you have the right materials. Just make sure to make your hair all clean and smooth before curling.
Or, if you don't want to subject your hair to heat, just twist them into buns or with a curling ribbon and take them off in the morning.
They're also easy to maintain as long as you remember to spritz them with some texturizing spray, dry shampoo, and other helpful products.
Aida
Founder & Hair Beauty Specialist
I'm Aida and this is my blog where I write mostly about beauty and make up related stuff, but I like to spice it up a bit with lifestyle and photography posts. Or with whatever that comes to my mind. Hope you will enjoy the reading enough that we will 'see' each other more often!